Resource
|
Mollie's Blog No 11
Meet the Scientists
A very exciting two weeks in the lab to update you on!
The initial results of my experiments have indicated that the protein my project was focusing on (PPP2R5D) is not involved in removing phosphates (small chemical tags, PO42-) from Ubiquitin. Whilst this may seem a disappointment – no result is a bad result as long as the data quality is high and the result is unambiguous. So, whilst my work into PPP2R5D will stop here, another exciting development has arisen.
In the same experiment that showed PPP2R5D (a component of the PP2A family of phosphatases) is not involved in phosphate removal from ubiquitin, I also examined another family of phosphatases known as PP1. I had originally intended examining PP1 activity as a control/reference to measure the activity of PP2A against but to our surprise, it appears that PP1 might be our man.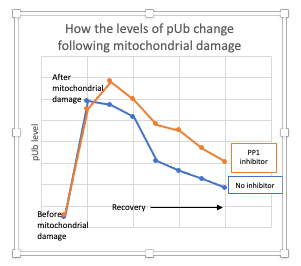 If you recall, in this experiment I initiate artificial damage to the mitochondria with two chemical compounds (Antimycin and Oligomycin), this stimulates the PINK1/Parkin pathway. Together, PINK1 and Parkin label the damaged mitochondria with long chains of proteins (Ubiquitin) and importantly, these proteins are tagged themselves with phosphates. These phosphorylated Ubiquitin chains signal to the cell to destroy the damaged mitochondria. However, in this experiment I wash away the damaging chemicals after 2 hours and allow the cells to recover.
If I look at the levels of phosphorylated ubiquitin (pUb) over time I see the levels go from almost no pUb before mitochondrial damage, to very high after two hours of treatment and then after washing away the damaging chemicals, the levels of pUb slowly decrease over time. To test whether phosphates (PO42- tags) are being actively removed from Ubiquitin by either the PP1 or PP2A family of phosphatases (causing the dramatic decrease in levels of pUb after I wash away the damaging chemicals) I carry out the same experiment but add inhibitors for PP1 and PP2A. As I explained a few weeks ago, with the addition of the inhibitor, I would expect to see that the levels of pUb do not fall as dramatically if either PP1 or PP2A are involved. I was expecting to see that the levels of pUb would remain high when I used the inhibitor of PP2A and not PP1, but what I actually saw was the opposite. The results suggest that the PP1 family of phosphatases are responsible for removing the phosphates from Ubiquitin, hence, take away the signal for the mitochondria to be destroyed.
Goodbye PP2A and hello PP1. On the back of these results we have opted to put the research into PP2A on the back bench for the time being and pursue an investigation of the role of PP1 in the PINK1/Parkin pathway. Whilst it has been hard to drop my original project it has been another good science lesson – you can't dictate what you want the science to tell you. It is situations such as this that it is important to not be too narrow minded and try to force results to suit the path you want to take, by doing this you could miss much bigger more important findings that were right under your nose. My key lessons from this week have been to keep an open mind and follow where the science takes you, rather than trying to force the science down a road it doesn't want to go down (very much a square peg, round hole situation.)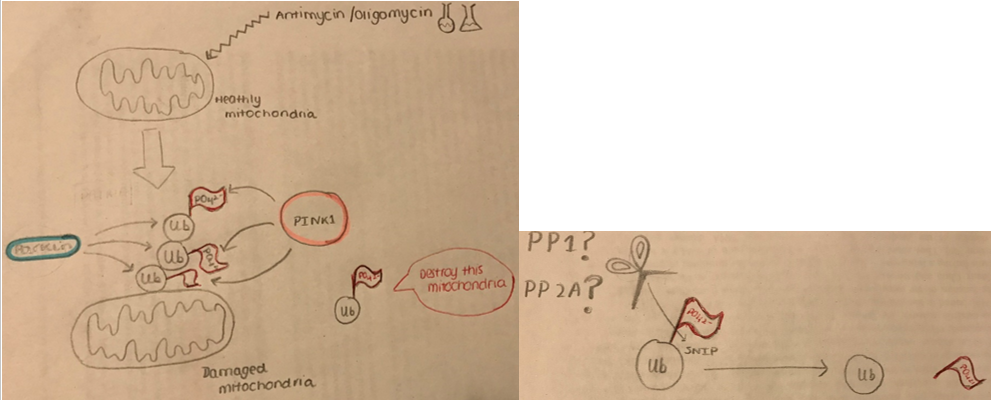 In my next blog I will introduce some of the biology of PP1 and talk about how my project is going to evolve from here. In the meantime, I hope we can continue to enjoy this stunning weather – believe it or not I am writing this sat in the garden (albeit with a coat on but my face is really feeling some warmth in that sun). Bring on spring.