We are a group of people, affected directly or indirectly by Parkinson's:
- We have to deal with the effects of the disease on a daily basis.

- The life of carers is heavily influenced by our varying needs.
That's why we are interested in all possibilities to stop or slow down the progression of the illness and – moreover – never give up the hope, that research will come up with a cure for Parkinson's.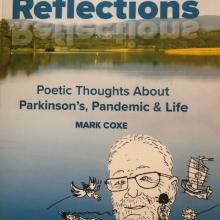 Mark Coxe from the local Fife Parkinson's Support Group is now in print!
The Falkirk Herald newspaper said:
"Forth Ports employee Mark Coxe, who was diagnosed with the condition eight years ago aged 50, discovered a previously untapped flair for poetry during the coronavirus lockdown to produce his first piece of published work.