My Parkinson's
|
THE BRIEF, THE BIKE AND ME!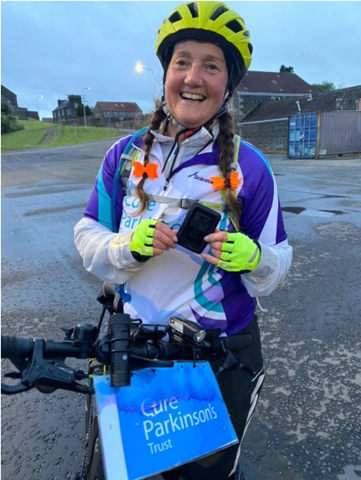 Tuesday, July 7, 2020
RaidLocal was the new name of the cycling challenge set by The Cure Parkinson's Trust. The brief was to cycle 137km, 3,700m ascent (85 miles, 12,139ft) replicating what would have been Day 1 of the postponed Alpine Raid and I think the forecast of possible Drizzle, 12°C, Feels like 12°C, Humidity 100%, Wind 11mph from SSW - by the Klimat.app WAS WAY OUT!!  My GPS device didn't record some elevation, as it was out by about 700ft, compared to Stuart and Kirsteen, my fellow Raiders, so just to be on the safe side I ended up cycling an extra five miles!  Surprisingly, I felt ok the next day! My muscles knew they had worked so my plan was to not move from the couch all day, although easier said than done.
Thank you to my amazing husband, Gary, for his continued support and Kirsteen Ross and Stuart Robb (another PWP) for keeping me company.  Their encouragement and boosting my morale, for what at times seemed like a thankless task, was immeasurable! But jings, the amazing sponsorship we've all received has been overwhelming and is going to a charity whose sole purpose is to fund research! I'm grateful for the people who came out to support us; our amazing family and friends – in such appalling weather.
I have to mention the amazing Alison Hume for sourcing me a bike from her friend Elaine, who I've never met, but who was still willing to let me borrow it. I'm so lucky to experience such incredible kindness.  Secretly, when the bike arrived I was filled with glee because I have this weird obsession with having a clean bike, particularly, the chain and cassette!  It arrived with a good thick coat of muck!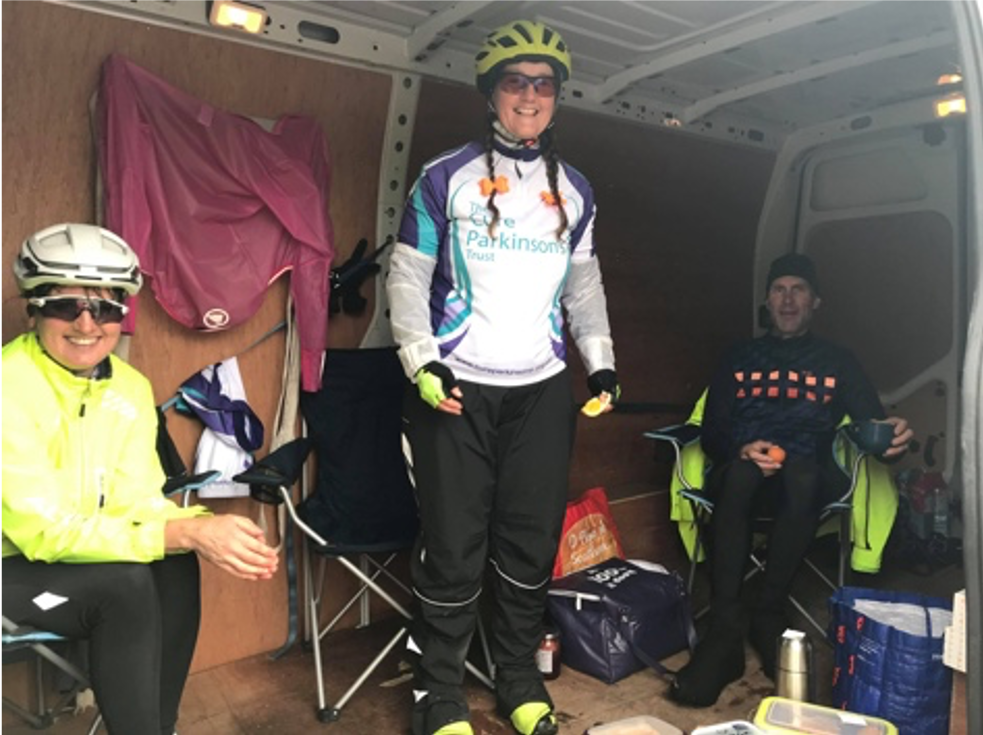 Obviously, having any ailment or condition sucks and as PD is progressive, mostly invisible and incurable - it's one of the lesser understood conditions, therefore, a little harder to raise money for.  Unless, you have a family member or someone you know, some people can't relate to it and why donate to something you don't understand. After all, 'it doesn't look like there's anything wrong with you!' and 'it's just a tremor.' Ok, it's complex and has umpteen different symptoms, motor and non-motor, but unfortunately, it's one of the fastest growing neurological conditions of our time, so may not be relevant to you now but hopefully by doing daft things like this, helps to at least raise awareness.  
Having a rare condition called FND on top, has, without a shadow of doubt, exacerbated my symptoms, although specialised physio may help but goodness know when that will be! But in terms of cycling and carrying out every day tasks it's much much harder than it used to be and in fact almost impossible, at times!  The right side of me doesn't work properly and there's very little power down that side. Thank goodness I live in the times I do; but I need a bigger kitchen to house all my gadgets! Overall, I get there in the end but it takes me a while and there are many tasks that I have to admit defeat, including eating like a Neanderthal when I can't cut my bloody food with the pressure and sawing action required of the knife!  Whether this is trying to do most things with my left hand or finding creative, alternative ways to do things makes for a much slower and, at times, frustrating existence! Now, hopefully you get why even going food shopping is extremely stressful! When I do feel up to shopping, the shopping trolly becomes my walking aid. I slump over it to alleviate and take the weight off the bottom half and by the time I get to the checkout, I'm done it. This is when it becomes even more stressful. The speed you are expected to unload and pack is just too much to bear!  But I problem solved this by putting a message on my phone notes page which I hand to the cashier, saving the need to publicly announce the difficulties I'm experiencing.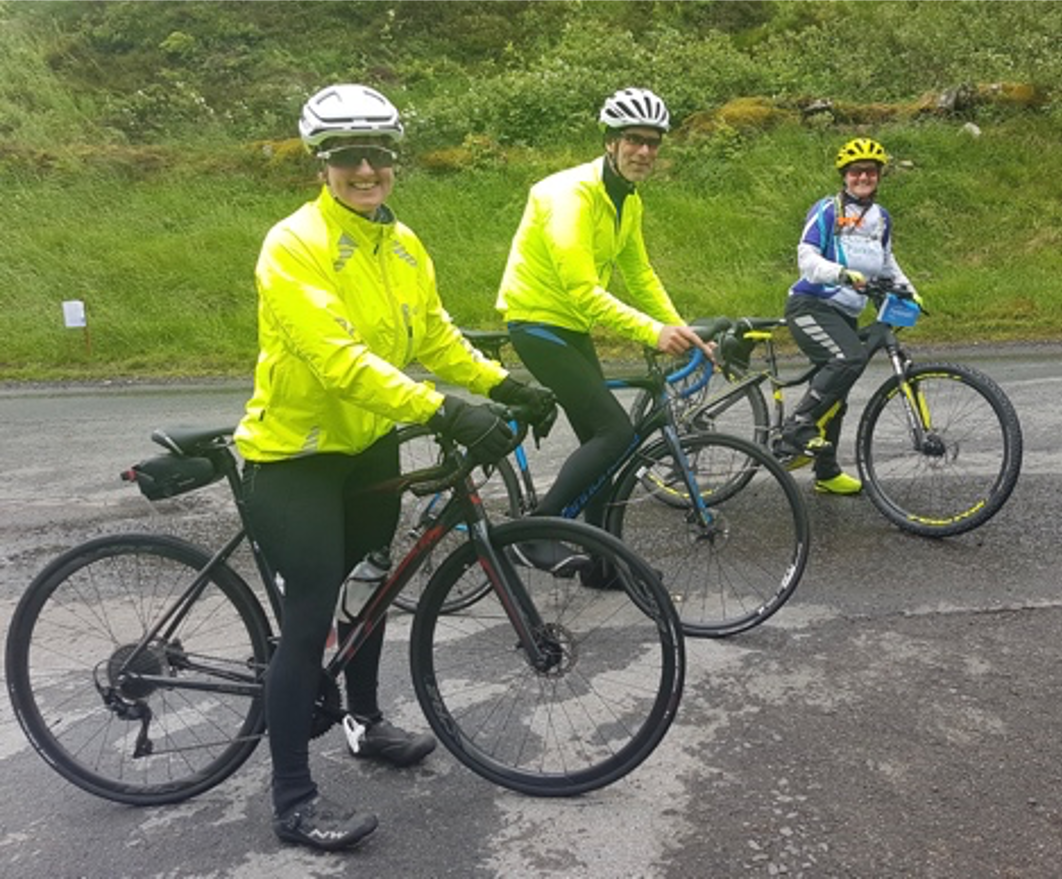 Pain, now how can I describe it?  It feels like I've been in a car crash, that bruised and battered feeling, along with burning, nipping, stinging nerve type pain, also dull, heavy, throbbing pain - all at the same time affecting different isolated parts of the body. Then there's the ability to move normally! Movement is no longer autonomous: I feel stiff and slow and it's no longer a natural sensation and for nearly two years walking distance has been an issue. Put me on wheels, and I usually say, 'I'm fine!' but in reality I'm not! It has it's difficulties too but the overriding feeling of being able to get to A to B quickly, compared to trying to walk is what gets me on my bike - so in a way, it's my version of a mobility scooter!  I'm in the process of trying to convince HMRC of that, to benefit from a VAT free purchase of an ebike.  Cycling outdoors without one is just too difficult but getting an ebike, of my own, will enable me to continue - literally opening up my world.  I mean they have boats listed in their criteria, yes boats, but not bikes! Anyhoo, that's a soapbox for another day!  
Nowadays, I have the memory and attention span of a fish. I'm easily distracted and instead of being that person who would arrive at a meeting half an hour early, I am THAT person who arrives half an hour late, misses deadlines and needs regular prompting! I have alarms, to do lists and reminders set all over the place. The ability to focus and get myself organised takes tremendous effort.  Stress has to be eliminated too - definitely not conducive to PD.  Sleep, or lack of it, is a common problem, functioning on an average of 3-4 hours. I rarely nap, but when I do, I find it's literally only been for a few minutes!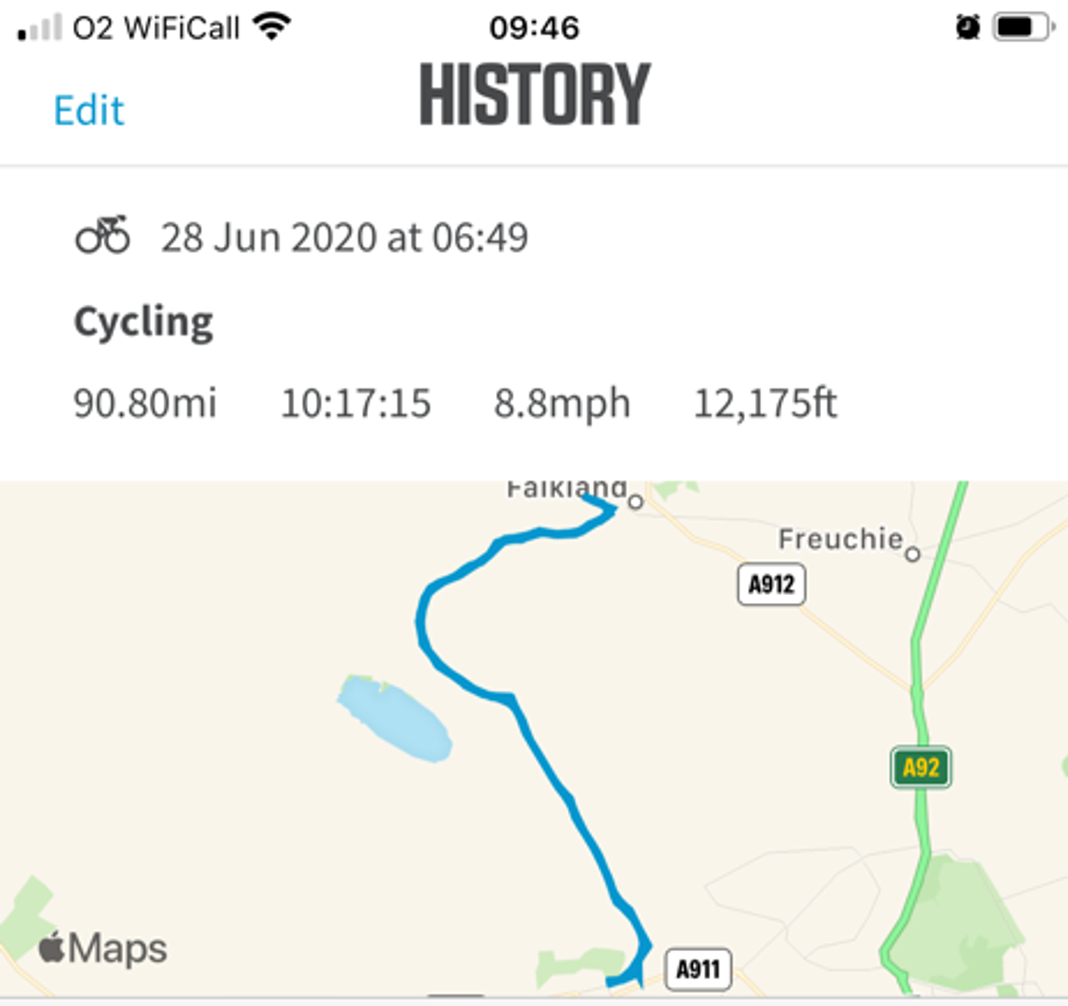 I could go on and on but I don't want to suck the complete life out of you but just wanted to try explain why I'm so grateful to those who have supported and donated, particularly the other Raiders and celebrities and the charities that are there for people with Parkinson's.